Every couple of weeks we receive photos, videos, and wonderful stories from the givers and receivers of KULUMI products. The recurring theme? Hope.
KULUMI products are known for the hope that they bring. In prisons, in the homes of parents with special needs children, in countries where electricity is very scarce and in many other challenging and seemingly hopeless situations.
The stories on the audio players that people are listening to are making an impact for good in their lives. Here we share three people's experience …
Odette in South Africa: "My son turned 9 in August and he is on the autism spectrum. He struggles to read and write, but shows a lot of interest in words. Often I would see him paging through his favorite book over and over again. I gave the KULUMI® Sheep to him and he fell in love with it straight away. This brought joy to my heart and tears to my eyes. He loves listening to the songs and stories. What a special way to bring hope and joy to those who can't read or write."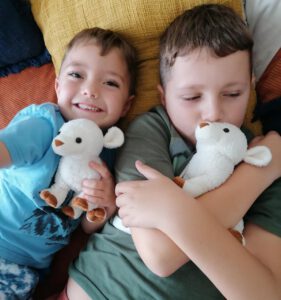 Clive in Bali: "We got 3 KULUMI® Minis into a local women's prison. The audio players are kept in the prison clinic and prisoners ask the nurse if, two by two, they can go and listen to the uplifting and encouraging content on the device. Precious eh?"
The Republic of Chad has one of the highest levels of hunger in the world and less than 10% of the population has access to electricity. The KULUMI® Mini is bringing hope and light to a customer there: "I am using one in my home for the light and to listen to the songs. The battery can last for 10 days before I need to recharge it." 
Hope reduces feelings of helplessness, it can reduce stress, and has the power to improve the quality of life. It is clear. We all need hope.
Bringing hope and light is at the core of what KULUMI does – and it abounds!