1. LED LIGHT
4 levels of brightness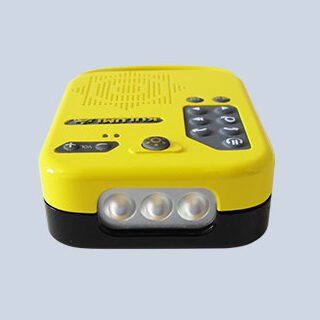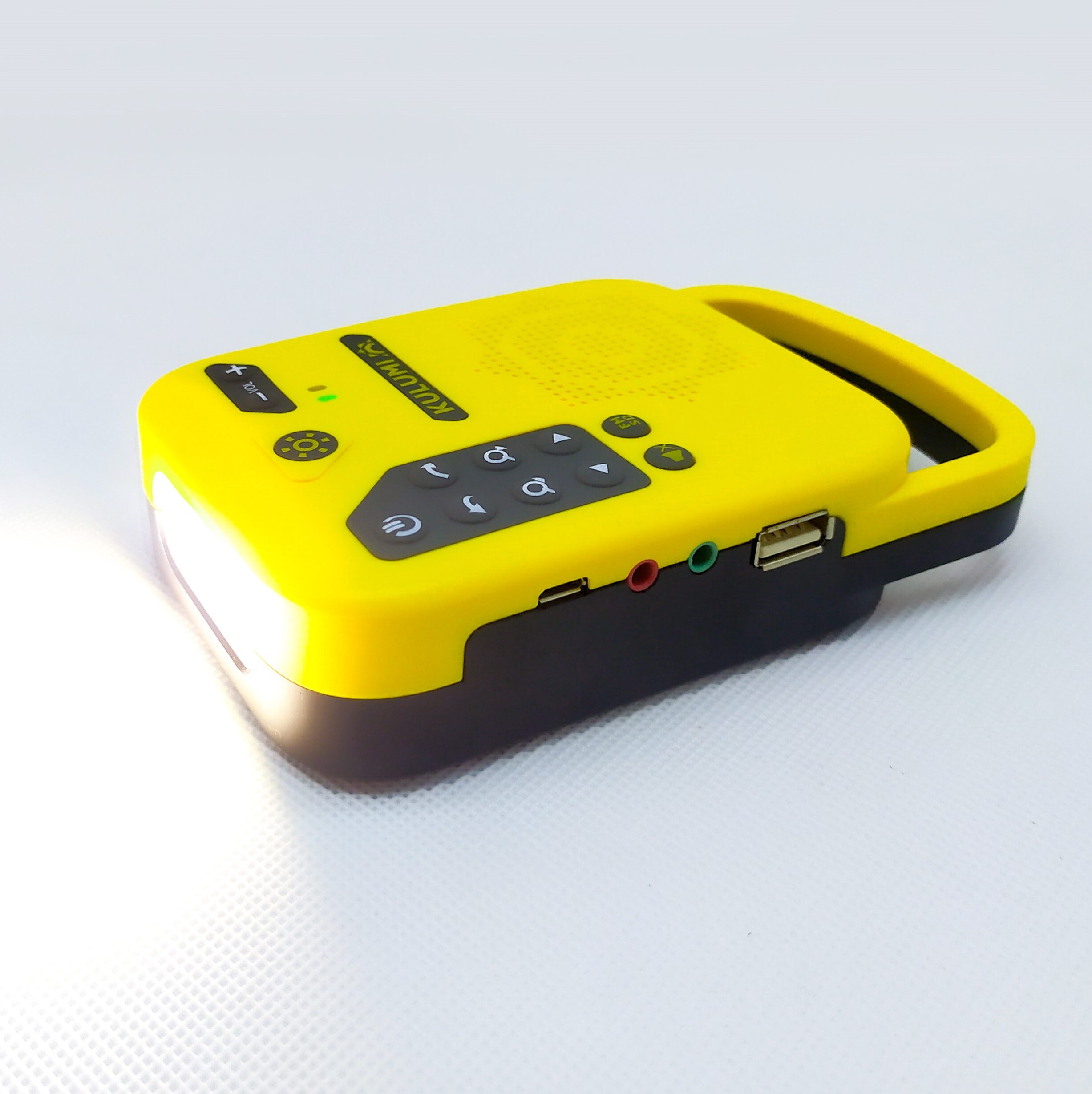 LED is hailed as the best choice for more efficient, environmental-friendly, and cost-effective lighting. It is already replacing many traditional bulbs as it is highly energy-efficient, gives more light, produces less heat, is mercury-free, and costs less in the long run. LED uses less electricity for the same light output, i.e., about 85% less electricity than conventional lighting and about 18% less electricity than compact fluorescent lamps (CFL).
| | | | |
| --- | --- | --- | --- |
|   | Halogen | Filament | CFL |
|   | 50W | 60W | 11-15W |
| LED | 6.5W | 11.5W | 11.5W |
| Save | 87% | 81% | 12-23% |
LEDs have a general life expectancy of 50,000 hours, and Kulumi Mini's LED is no different. The LED will decay 6% after 6000 hours.
Kulumi Mini has 4 levels of brightness. At full power, the unit emits 150 lumens of light up to 10 meters (33 feet) or as few as 10 lumens when just a little light is needed. Depending on the brightness setting used, Mini can be used for 4-35h.
| | | | |
| --- | --- | --- | --- |
| 100% | 50% | 25% | 10% |
| 4 h | 7h | 18h | 35h |
| 150lm | 75lm | 40lm | 10lm |
Mini's light is a hybrid between a lamp and a flashlight. A lamp's light is uniform, but the range is short. A flashlight's light is very bright but only lights up a particular spot. If we take that same light beam and spread it out, it will become very dim.
Mini's light is directional like that of a flashlight and creates a uniform light like that of a lamp. The objective is to light up an area so that the light can be shared. Mini takes an amount of light, focuses it then spreads it out more uniformly at 120 degrees. This gives a higher and more efficient lux to power ratio.
Although Mini does not have a very long range, it is more than enough to light up the area in and around the house. For people who live in areas without access to electricity, Kulumi Mini brings joy and convenience to many.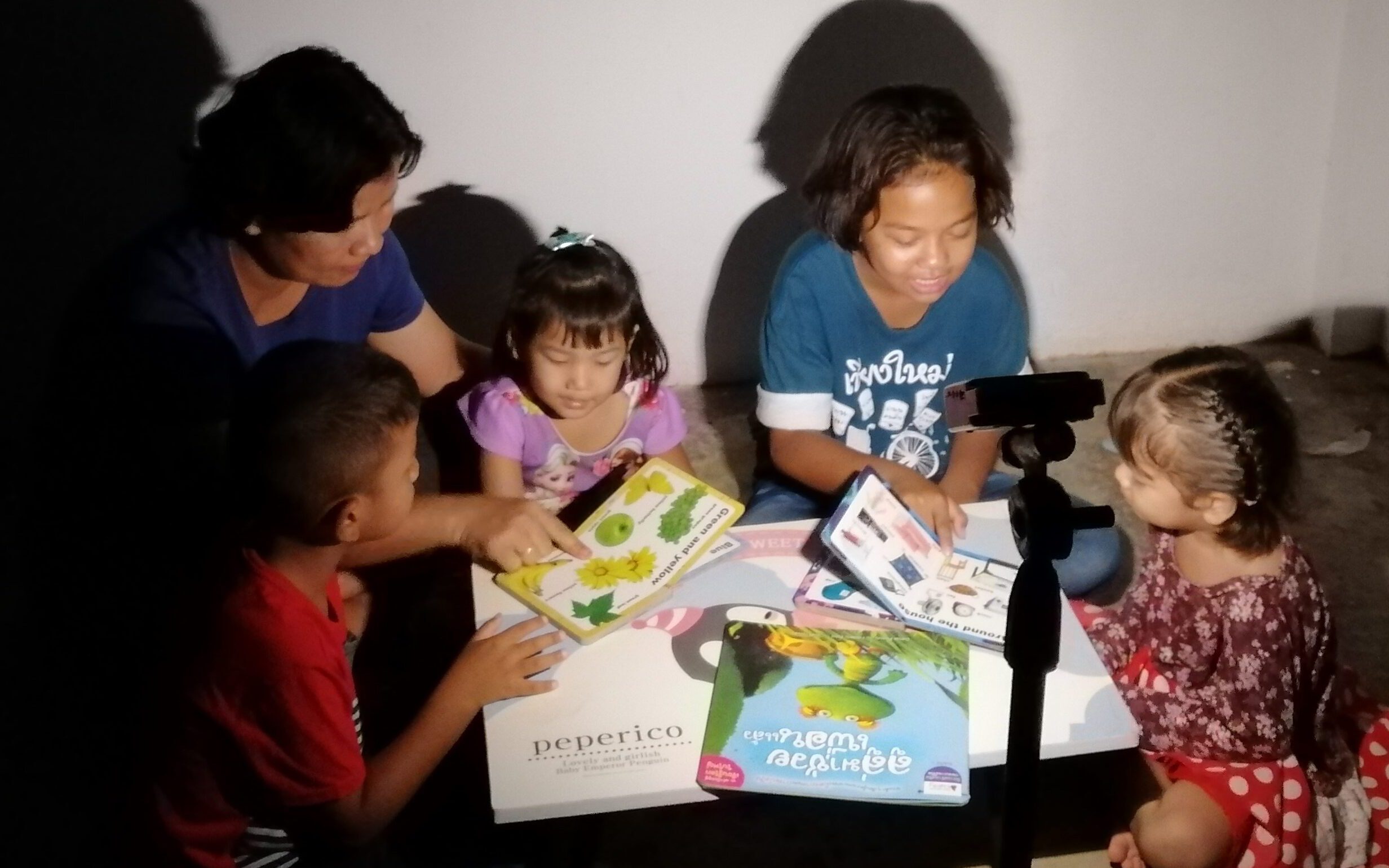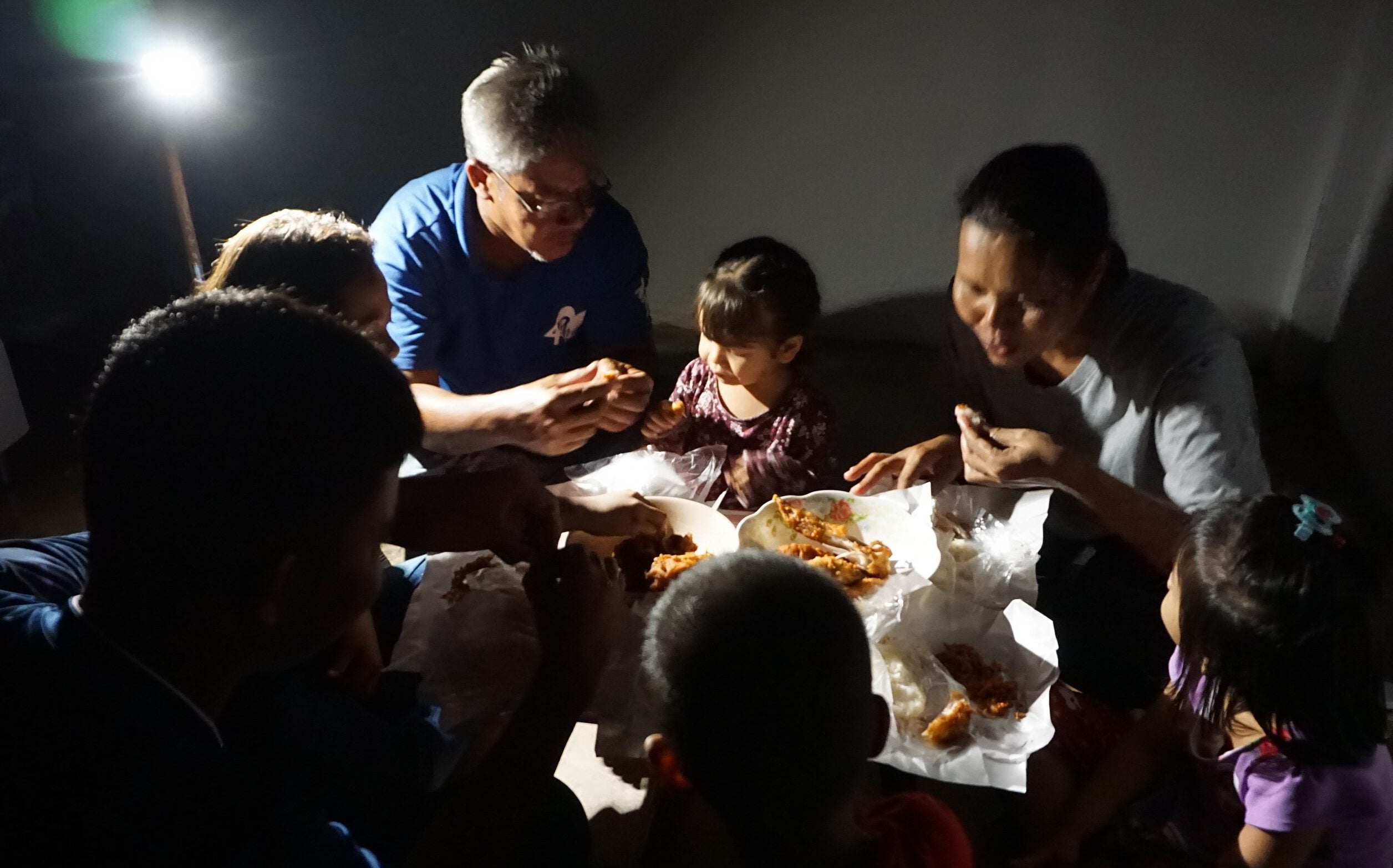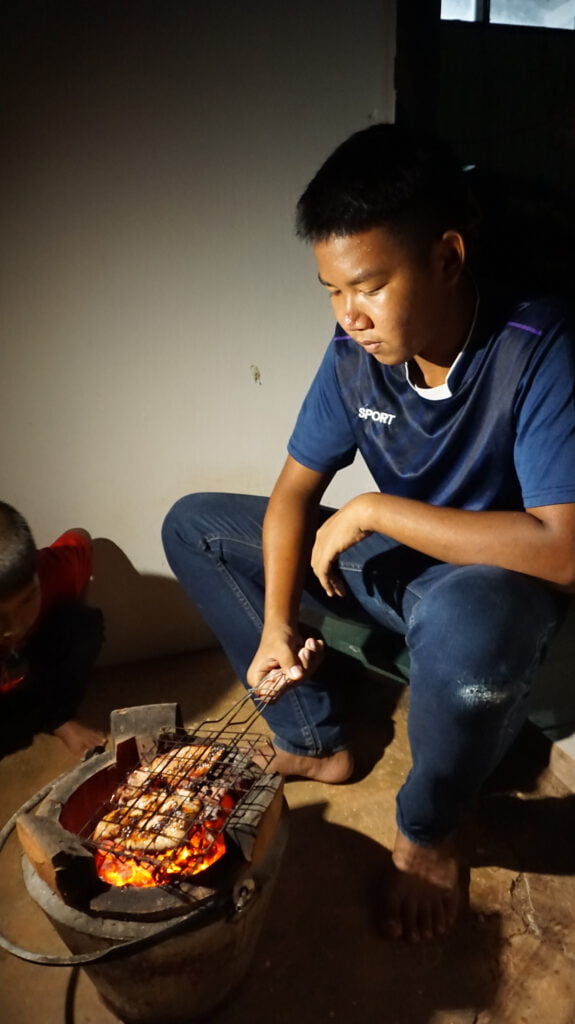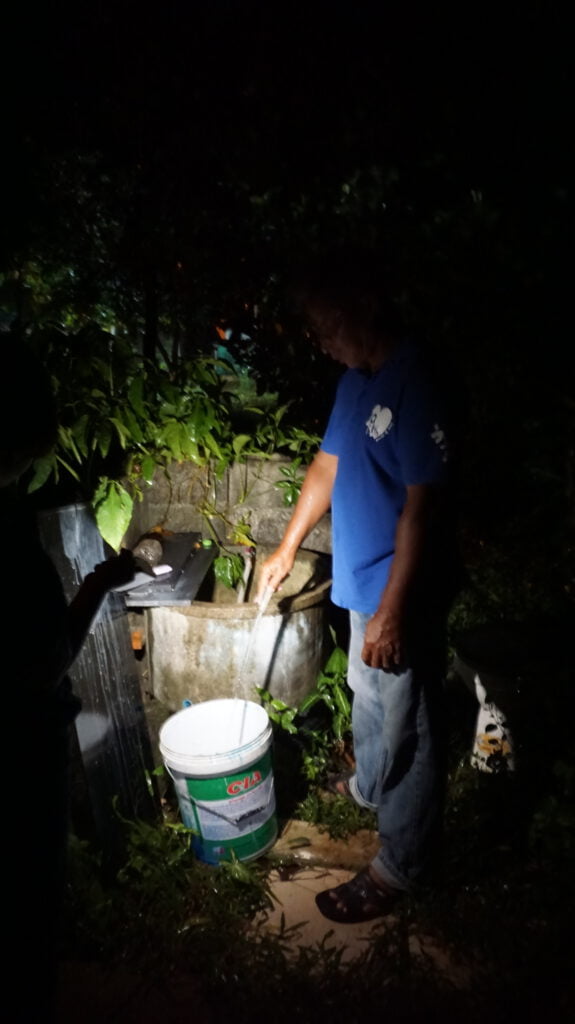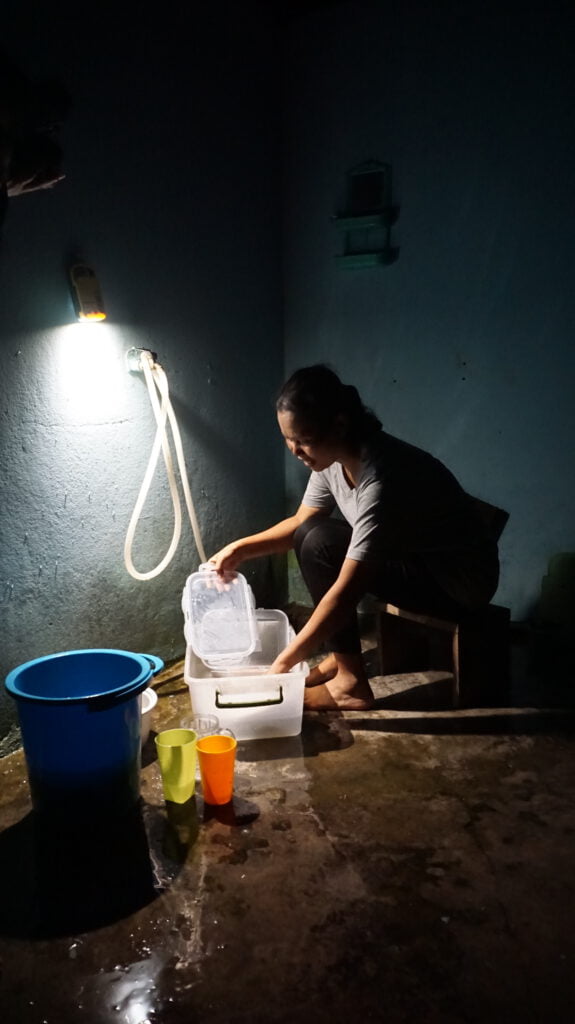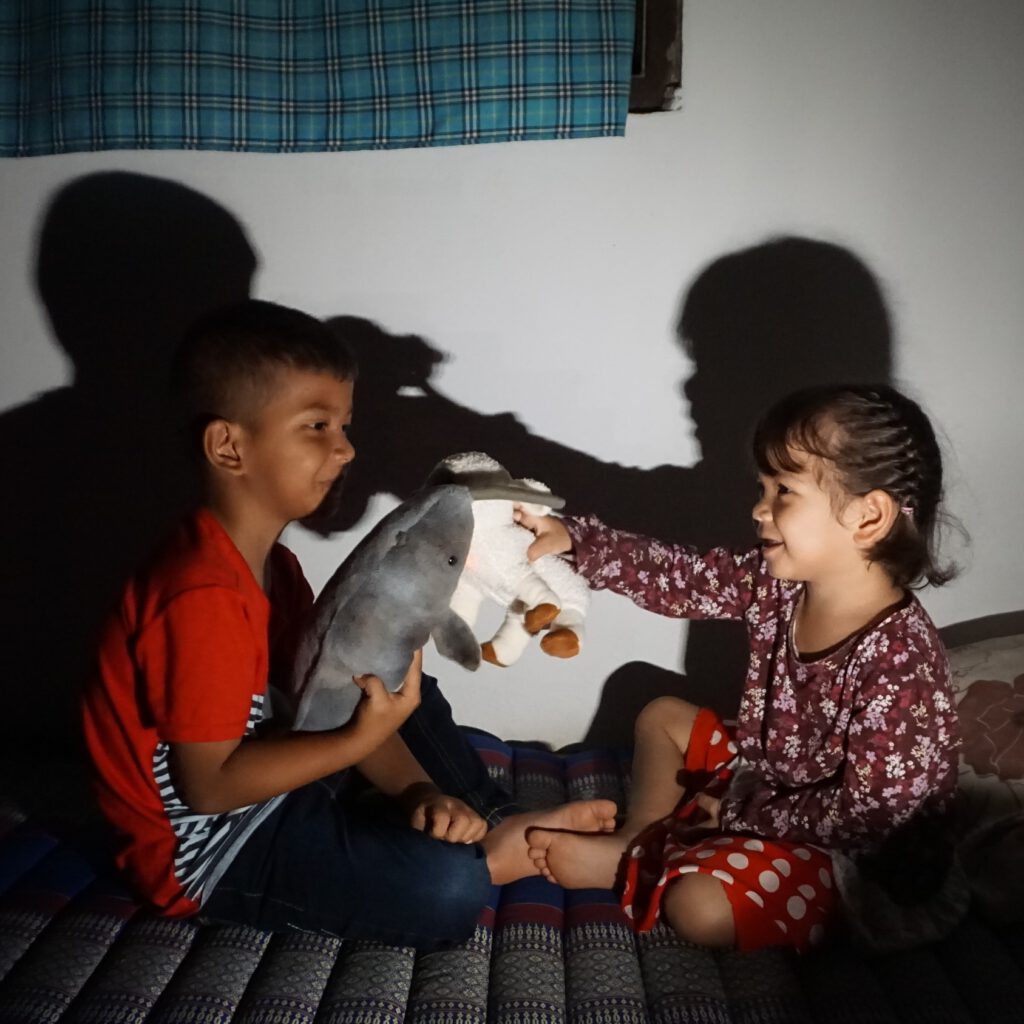 2. AUDIO PLAYER
8GB memory and 3 levels of content navigation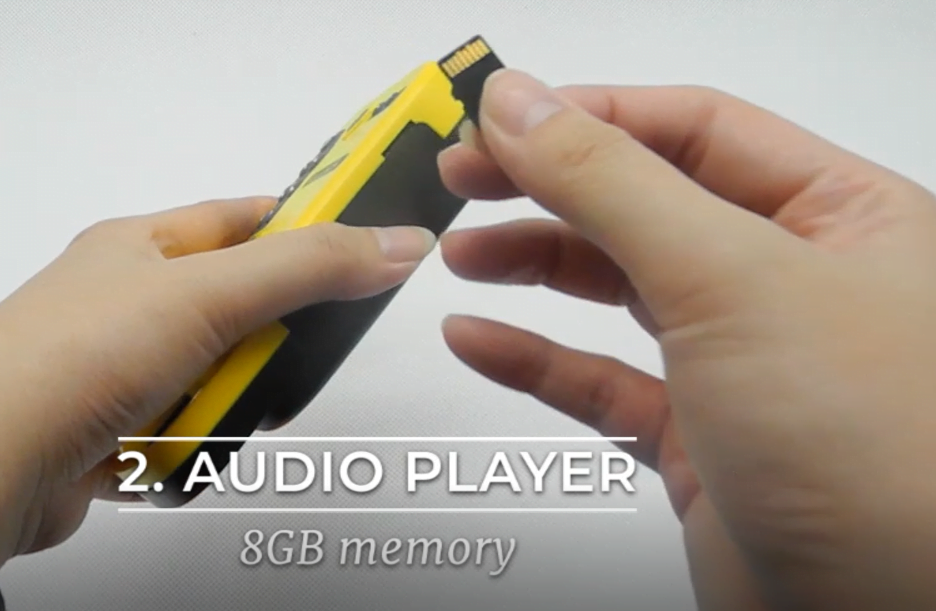 The Mini comes with a micro SD card of 8 GB with programmable content. There are 6 anti-tampering options to choose from should you wish to protect the content of the SD card.  We also have a version of Kulumi Mini that comes with internal memory to further protect the audio content.
The buttons are sturdy and allow you to easily navigate the 3 levels of content. 
The 3 levels are:
Main/Root folder (e.g. Old Testament/ New Testament)
Subfolder (e.g., Book of Genesis)
File (e.g. Chapter 1)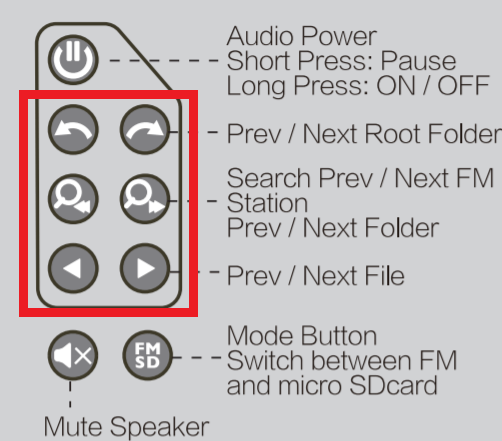 In remote regions, local tribes, and communities, the audio content is programmed in the local dialect, and for many, it is the first time having access to this technology.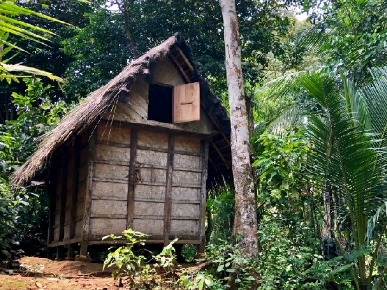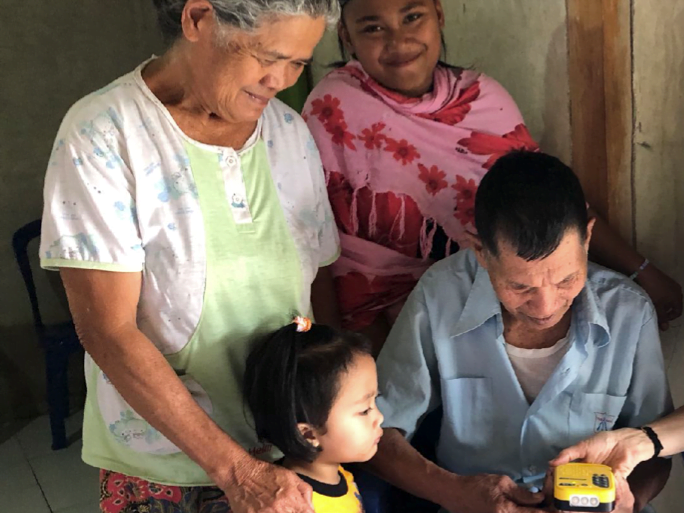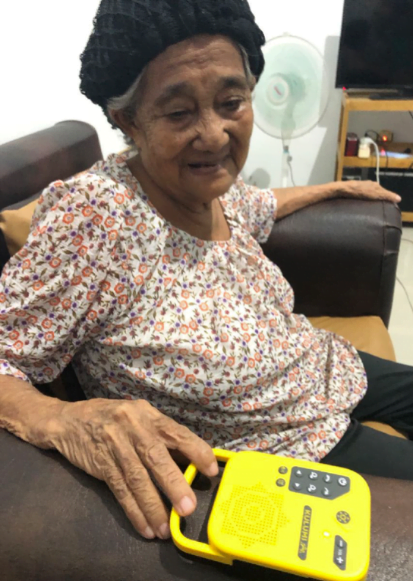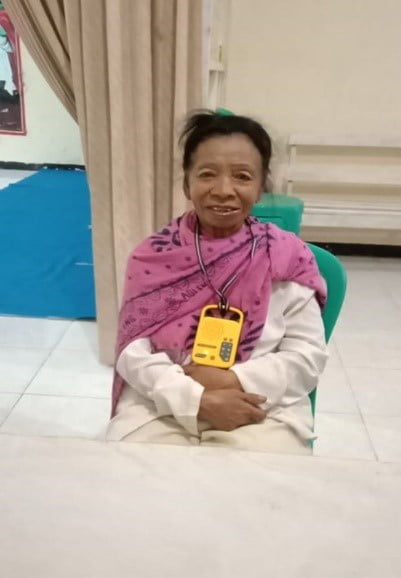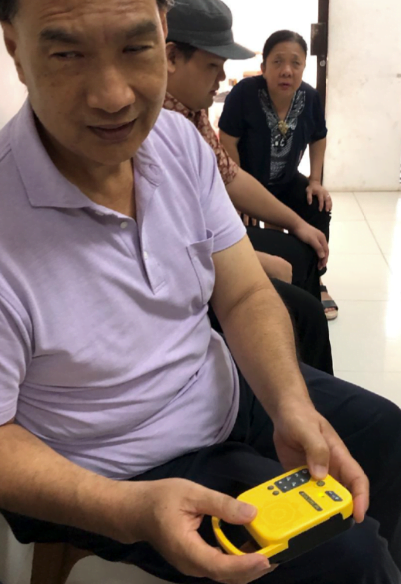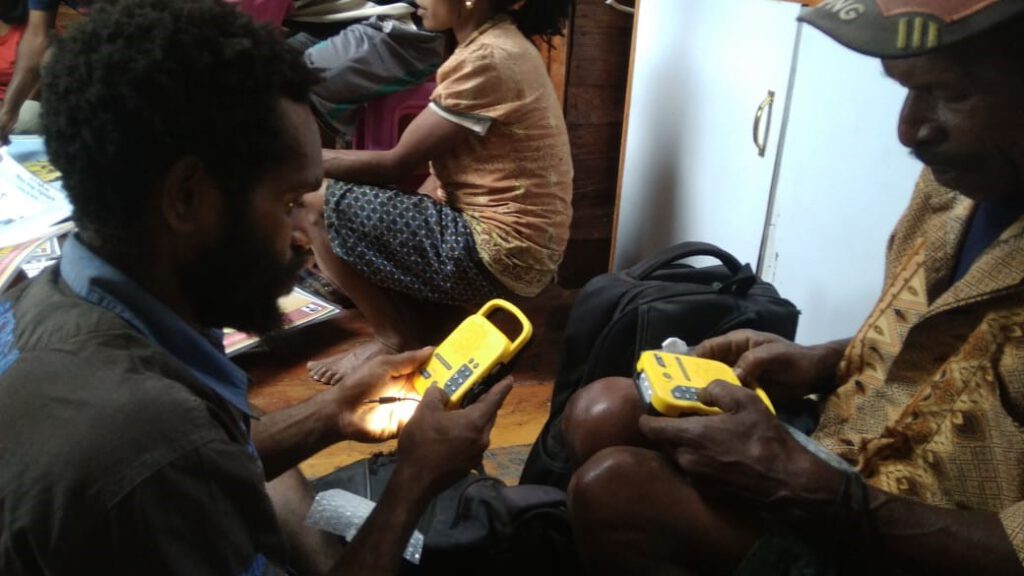 3. SPEAKER
Built-in 2W speaker
Kulumi Mini's speaker is loud enough for about 20 people to hear the audio content. In an enclosed space like a meeting hall where the sound resonates well, the speaker amplifies enough for everyone to hear. In gatherings and study sessions, it is often used to play songs, stories and educational materials, and to listen to the local radio station.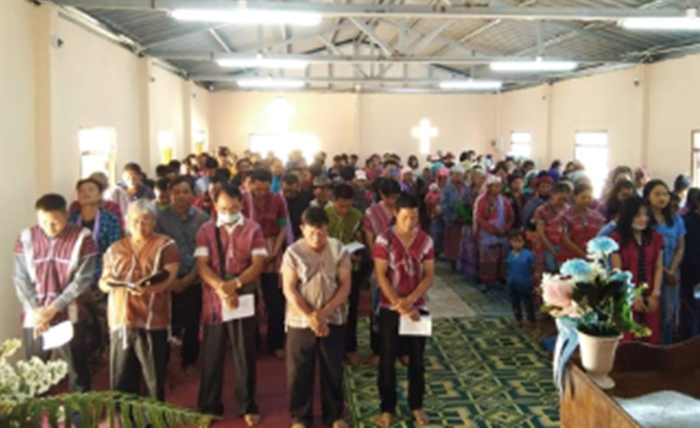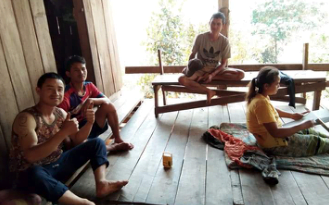 4. FM RADIO
76 MHz – 108 MHz
Kulumi Mini receives modulated FM signals with a frequency range of 76 to 108 MHz. The tunable FM band can cover all the frequency-modulated radio bands within the country. The 800 mm cable that is included can be used as an antenna and plugged into the 3.5 mm earphone jack for better reception.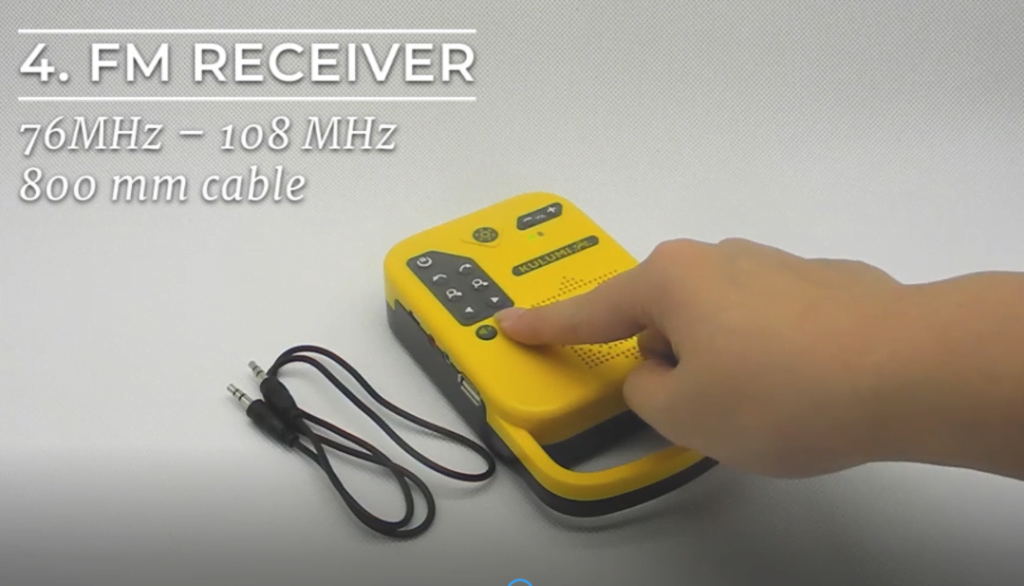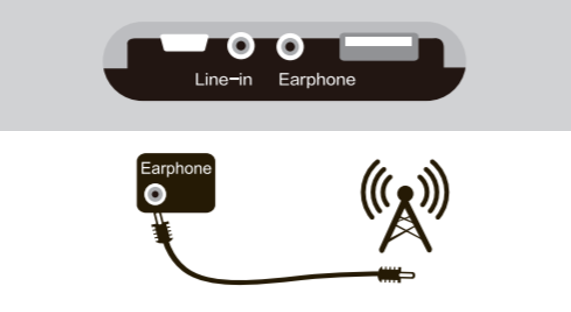 5. SOLAR PANEL
Built-in 0.7W rechargeable solar panel
The vision behind Kulumi started with a group of engineers who wanted to create a solar-powered lamp. That's because for a lamp to actually work, it needs a source of power. And nothing can rival our free source of energy: Sunlight.
Although listed as feature #5, the solar panel is one of the most important aspects of Kulumi Mini. Whether you are in an area without access to electricity or encounter a sudden power outage, you can rely on the solar-powered Mini to give you light when you need it.
Kulumi Mini will take 10-12 hours to recharge under direct sunlight. This will vary depending on the intensity of the sun.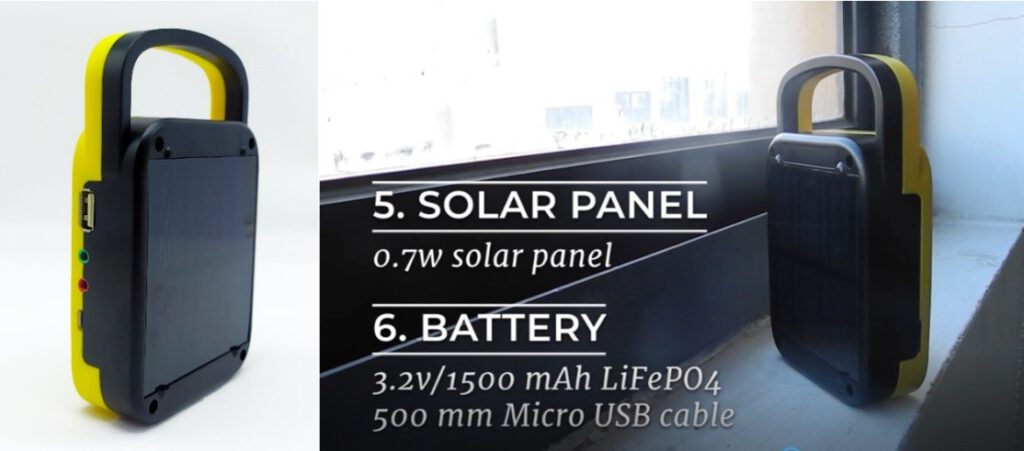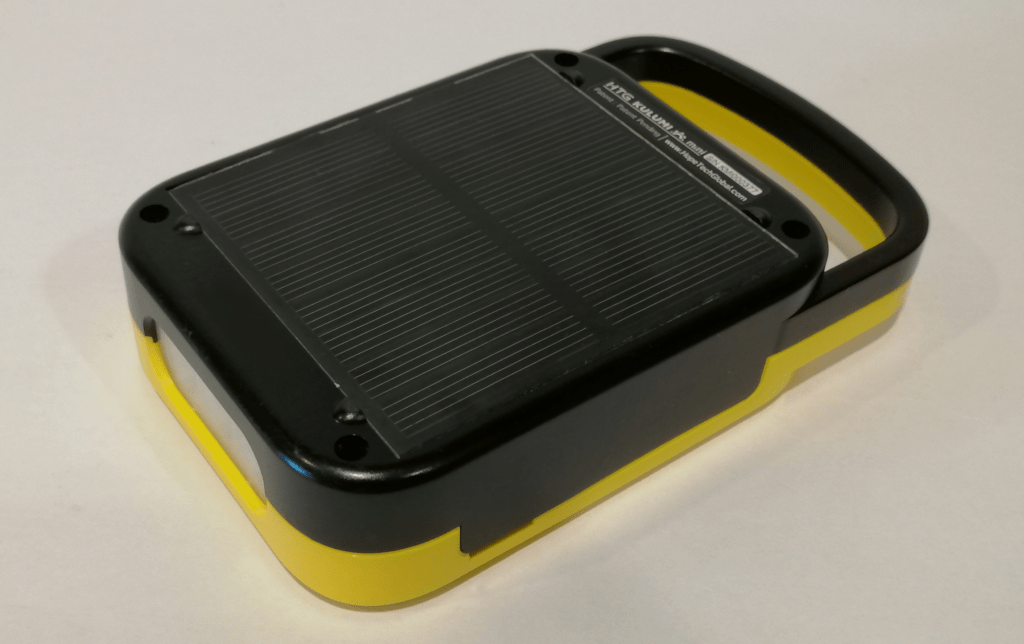 6. RECHARGEABLE BATTERY
3.2V/1500mAh LiFePO4 battery, 1000-2000 charge cycles, 4-35h of use
With a durable lithium polyester battery that recharges via the solar panel or a standard micro-USB cable, Kulumi Mini can be used for 4-35 hours, depending on the brightness settings.
Mini can be left unused for weeks and even months until there's a sudden need, and it will still turn on without any problem, thus making it the perfect tool to store in your drawer, hiking backpack, safety kit, or glove box for emergencies.
Use the included 500 mm micro-USB cable with a standard USB 5V power adapter to recharge via a power outlet. The typical charge time is 2 hours.
For people who live in areas without access to electricity, they can make full use of the long-lasting battery, using the light at night and letting the unit recharge via solar panel during the day. This also saves a lot of money as there is no need to buy disposable batteries that are not only short-lived and expensive but also harmful to the environment.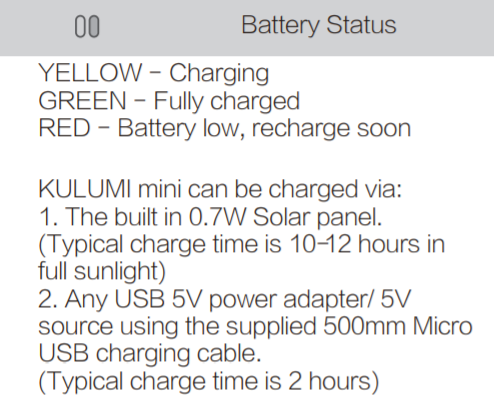 7. PHONE CHARGER
5V DC, 500mAh output
Once the unit has sufficient power, it can be used to charge other devices like mobile phones. This function comes in handy when your phone is running low and you need a source of power to keep it charged. Although it is not as powerful as the power banks on the market, it is still a very welcomed and useful feature.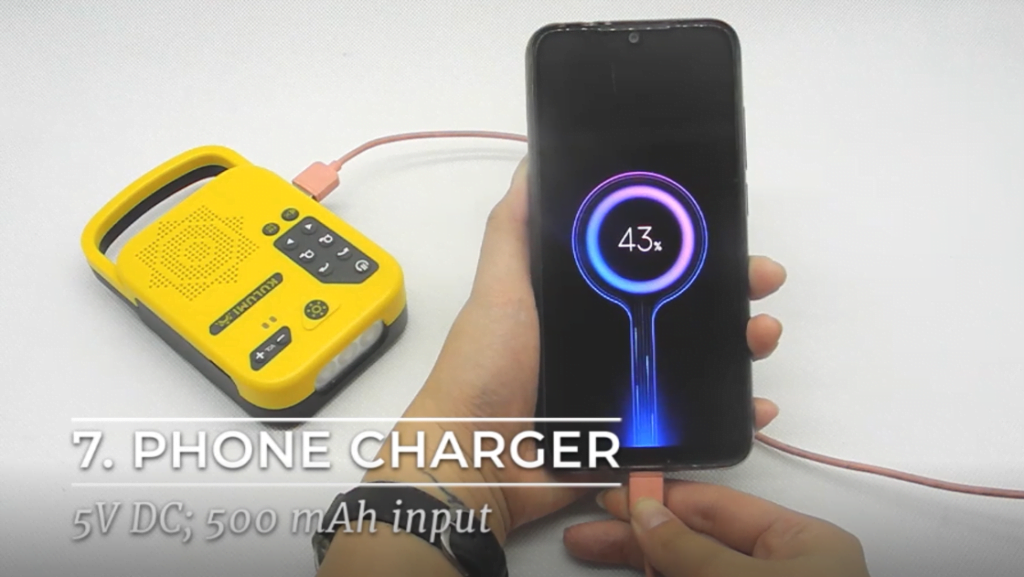 8. COMPACT SIZE
195 g; 136 x 82 x 33mm
Kulumi Mini is a light-weight and compact lamp with a comfortable grip. The handle makes it easy to hold and to hang on a hook or a tree branch. It can also fit well in your pocket and in your backpack.
Weight: 195 g (0.429 lbs.)
Dimensions: 136 x 82 x 33mm (5.35" x 3.21" x 1.29")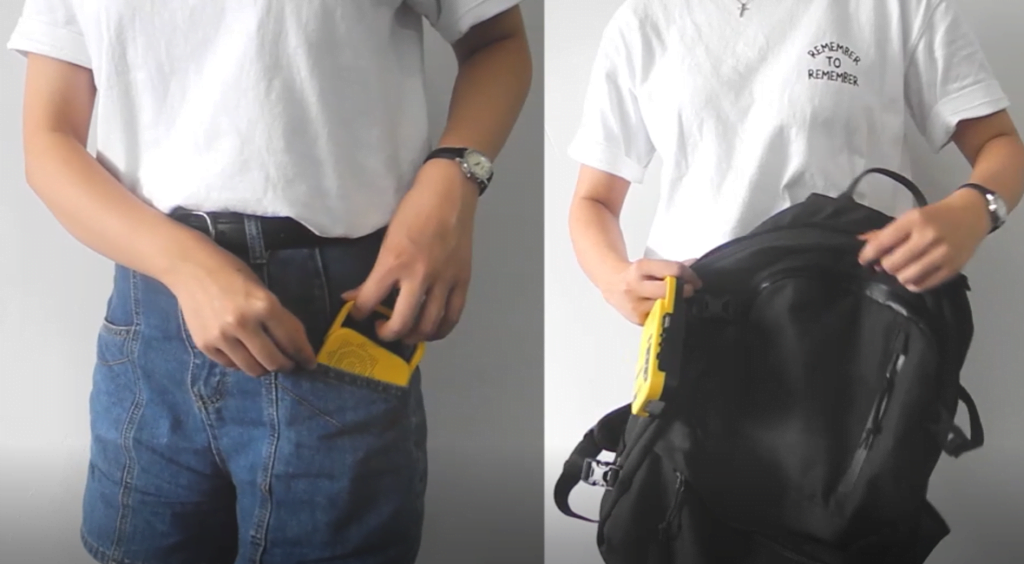 9. DURABILITY
Weather/ Water/ Shock Resistant
Kulumi Mini is made of Plastic Polymer ABS, a weather-resistant material, so it can be used in various conditions such as sunshine, rain, wind, and even snow. It is not waterproof but water-resistant with a rating of IPX6, meaning it can resist high-pressure and heavy sprays of water.
The printed circuit board (PCB) also has a conformal coating applied to it. It is a thin polymeric film that protects electronic circuits from environments that may contain high humidity, airborne contaminants, and varying temperatures.
Kulumi Mini can withstand the hot tropical climates of Africa and the cold, snowy weather of Russia.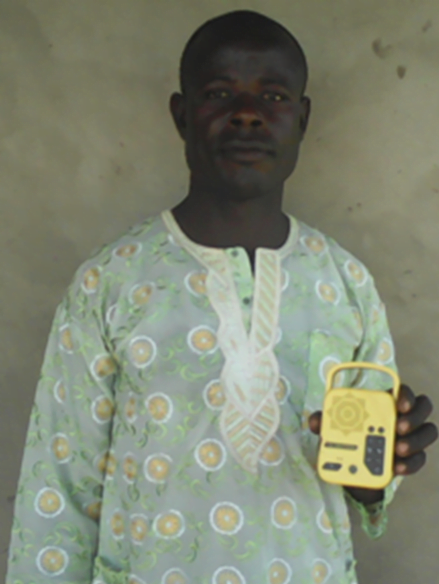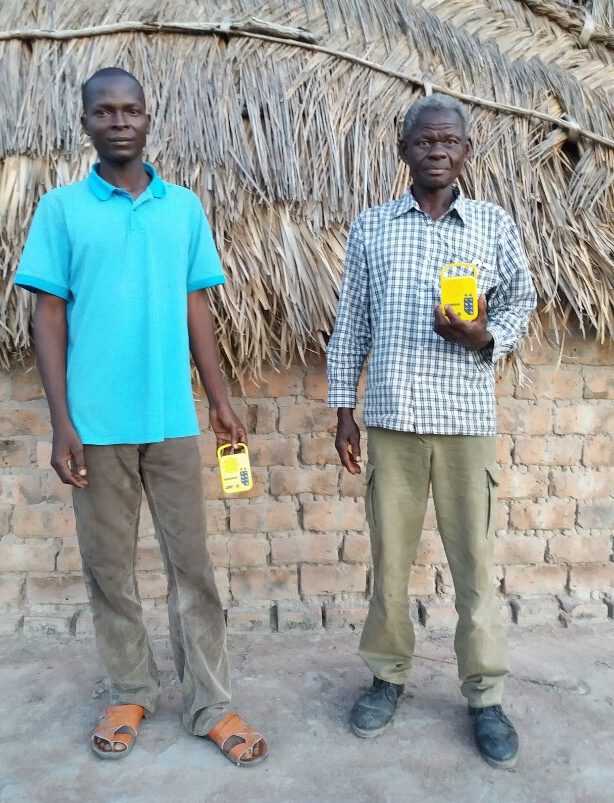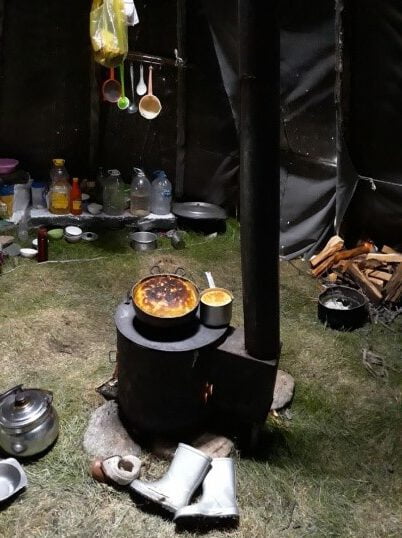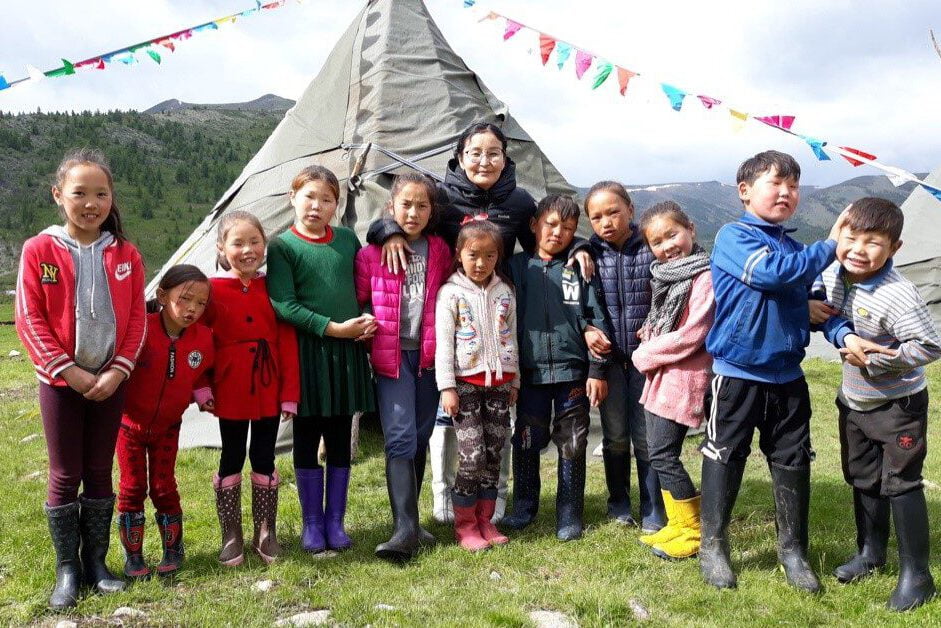 10. PRICING
For a product to be truly great, we believe it has to be of good quality and still be affordable. Our mission has always been to serve the people in the developing world by giving them hope through technology.  Even with the rising costs of materials and the unstable economy, we have endeavored to maintain this pricing.
| | | |
| --- | --- | --- |
| Retail | Bulk (Min.10) | Wholesale (Min.100) |
| $34.99 | $24 | $20 |
We are able to do this through our design for manufacturing in Asia. Our network of supply chain, spread out over China, India, and Southeast Asia, provides us with quality materials for a much lower price.
The innovation of our multicultural team is driven by our commitment to understanding the needs of the developing world we serve through our network that reaches 130 different countries.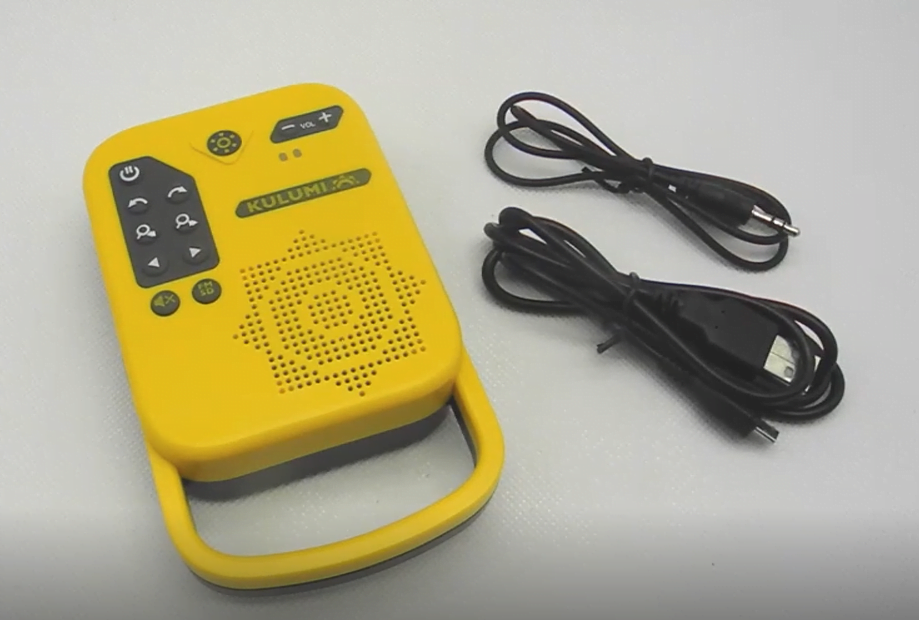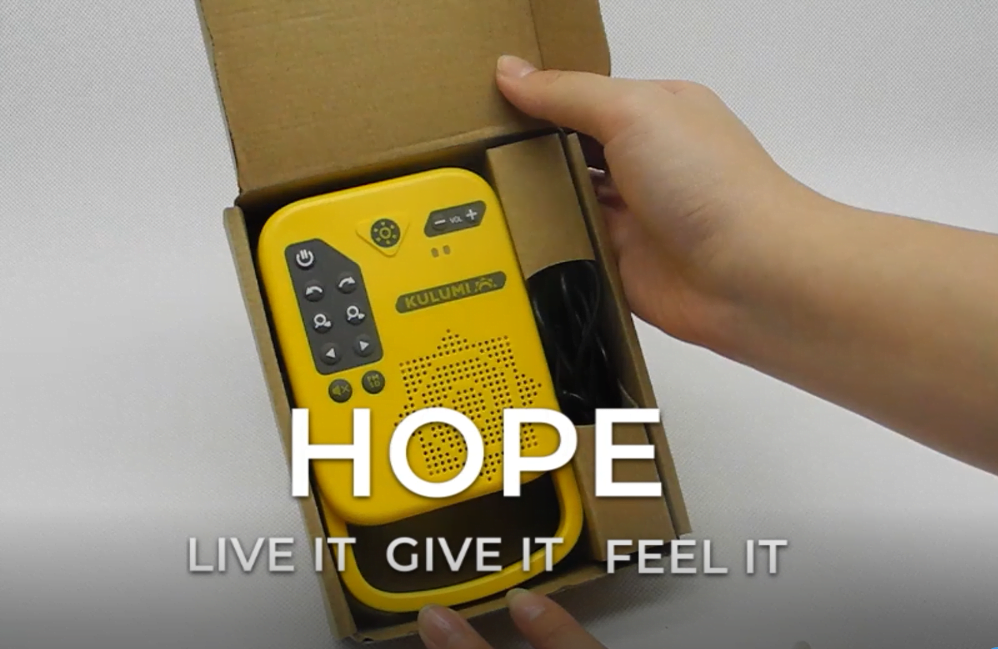 Its unique design makes Kulumi Mini more multi-functional, more compact, more durable, and more affordable than other similar products. Its long-lasting LED, built-in solar panel, and rechargeable battery make it a more environmental-friendly option while providing good value-for-money quality and durability.
Check out the next article Sharing Light in Dark Places, a beautiful story of how Kulumi Mini and Kulumi Sheep brought joy and comfort to widows and children in Sulawesi Indonesia.
If you would like to learn more about our products and projects, please feel free to get in touch with us by sending us an email at [email protected] or visit our website at www.kulumi.org